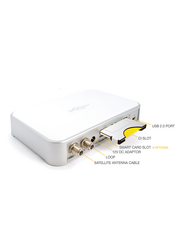 Hardware CAM Suppor

SageTV provides hardware cam support for FireDTV-S2, TT-S1600 and Anysee E7 S2 tuners. These are the only tuner where SageTV supports common access modules.
Each of the subscription tuners should have a hardware cam inserted.
A solution for multiple tuners is to use Diablo Wifi cams, one in each tuner, these can in turn be connected wirelessly to a WiFi router and subsequently access an OSCAM server running on the SageTV PC using either newcamd or cccam.
Alternatively a standard Diablo cam with the subscription card physically inserted in the cam will also work although using this method you will be restricted to one tuner per subscription card.
For information the Anysee E7 S2 tuners are reliable and my experience suggests that they worked better than the alternative CAM supported tuners. They have been successfully tested with 4 tuners running with 4 Diablo Wifi CAM simultaniously without error running 24/7 for over a week without failure.
Community content is available under
CC-BY-SA
unless otherwise noted.